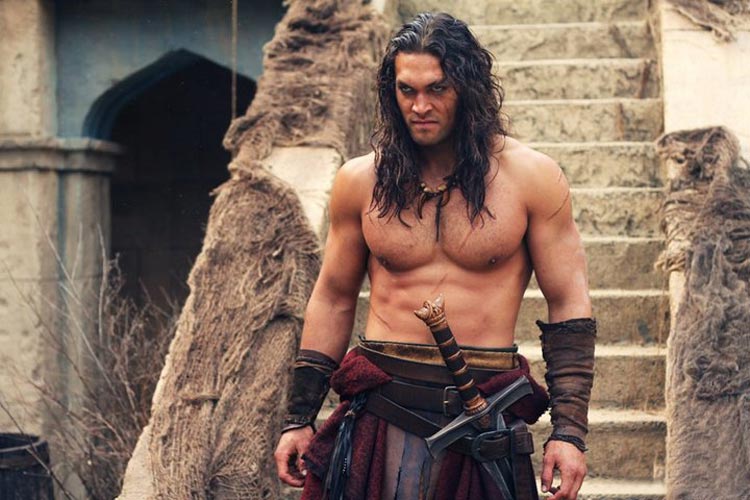 In case you didn't know, a new CONAN THE BARBARIAN movie is being made. It is directed by Marcus Nispel and stars Jason Momoa (from Stargate Atlantis) as the title character Conan. It also features (the Avatar villain) Stephen Lang as the movie's villain Khalar Zym; Ron Perlman (Hellboy himself) as Conan's father Corin, and also stars Rose McGowan and Rachel Nichols. Dolph Lundgren had spoken to the producers in November 2009 for an unspecified role. Filming began on March 15, 2010 and concluded on June 5, 2010. The movie is set for a 2011 release, but no specific date has been announced yet.
Personally I am an enormous fan of the first Conan the Barbarian movie which stars Arnold Schwarzenegger and directed by John Milius (I hate the sequel Conan the Destroyer). Conan the Barbarian remains as one of my top 5 favorite films of all time. Because of that, I am pretty much updating on how the new movie would go.
The photos of Momoa that had been released earlier was, for me, very disappointing. I hated the way he looked. He looked too tame. Too "muscular pretty boy". I was afraid Conan would become this posterboy for something really dumb, silly, and annoying. Conan should be scary. He should look like an animal, or even worse. Beastly with a regal aura. He's NOT supposed to be a pretty boy.
Well, the recent photos have been redeeming so far. These new photos kinda cured my hopelessness for this project. These photos do look a bit better in the sense of showing a Conan that is more beastly than just some dumb pretty boy. Let's all just hope that this will be as magnificent as the original.