ON THE JOB is MAGNIFICENT;
The Shining Hope for Pinoy Mainstream Cinema
by Reymundo Salao
The story of ON THE JOB tackles the controversial issue of prison detainees being secretly slipped out of prison to serve as hired assassins. And once their job is done, they secretly slip back to prison and pretend that they have been there all the while. The syndicate that runs this operation is powerful enough and rich enough to easily mobilize such operation. The movie has a story that promises itself, not to only raise people's eyebrows in approval, but also promises to be a classic. [hit the jump to continue]
ON THE JOB is a magnificent piece of work. It blends all its factors into a level of perfection. Beautifully shot, and extremely well-directed. Erik Matti and cinematographer Francis Ricardo Buhay III managed to use the right kind of style to make slum, urban, and prison settings to look astounding. Impressive also, are the shift of visual moods that swing from the more gritty locations, to the more grandiose and upscale world of politicians who serve as infamous puppetmasters in the story. Screenwriter Michiko Yamamoto (writer of Ang Pagdadalaga ni Maximo Oliveros and Magnifico) and Erik Matti weave an intriguing story that mirrors a controversial issue and is also one rich with thrilling action and dramatic suspense.
Off the intro sequence itself which is a collage of news clips and footages, you could tell that this has some heavy political issues raised. The political drama in this movie is so relevant that it taps on the issues of how military generals are so influential to the point of being the ones who control secret syndicates.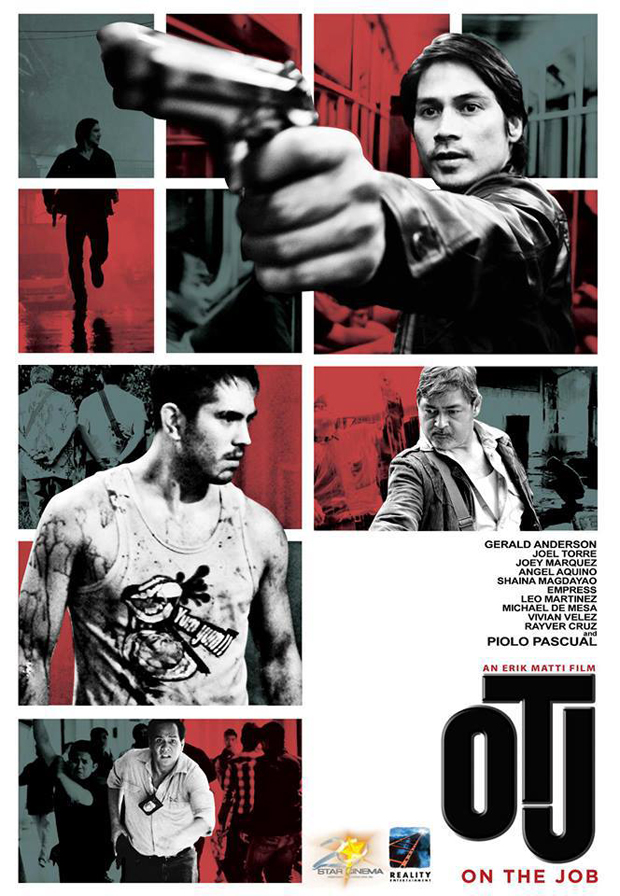 OTJ has a story that is not so difficult to understand, but it would be better if the audience would be more attentive to the little details of the movie, in order to appreciate the technical depth of the story as well as the dramatic connotations. Little details in the story, such as the fact that Joey Marquez's character has a son that is involved in drugs, that the father of Piolo Pascual's character was murdered, that the family of Gerald Anderson's character thinks he's working in Dubai. These little layers of the movie make the story more thought provoking and give a strong impact.
It was so refreshing and applaud-worthy to see such stellar cast playing really fine acting roles that do not involve the typical tagalog drama. The main cast really take their roles to heart; Piolo Pascual plays a ranking NBI agent torn between his love for his family, his commitment to his job, and the memory of his father. Joey Marquez sheds his old bungling comedy image and replaces it with the angst of a cop frustrated with the hierarchies of the system, while he is trying to track down the hitmen responsible for the recent murders. Joel Torre seems like the perfect father figure and could pass off as the main character of the four, except for the moral issue of him being a hitman. And Gerald Anderson stays true to his role of being youthful, reckless, clumsy, but dangerous.
Leo Martinez and Michael de Mesa are also magnificent, playing figures that are moving things in the political world,. Shaina Magdayao, Angel Aquino, Rayver Cruz, and William Martinez also have significant roles in the movie. Such a strong cast for a movie with such crime themes that remind me of great Hongkong crime noir movies such as Infernal Affairs and Hardboiled.
The musical soundtrack features some of the country's best bands, their tracks placed into sections of the story with appropriate perfection, and the musical scoring by Erwin Romulo is slick and really embodies the irreverent mood of the story.
I am glad that Erik Matti has changed the way I look at him as a director. When he was working with fantasy movies, I see him as immensely unoriginal and derivative. I hated his approach, even in the popular Tiktik: The Aswang Chronicles, I frown at it with disgust. In his earlier erotic works, he has shown us that he has an eye for great cinematography, but those flicks he made still did not amount to something impressive to stand apart the usual big name tagalog film director. But then again, it can be assumed that he was working with big producers that had their claws wrapped around tightly around his neck. That is the usual fate of film directors in mainstream tagalong cinema; to be slaves under the bidding of producers who think they know what they're doing, so much so that it becomes a case of pre-judging a movie, not on who directed it; but on who is the producer first. Perhaps this time, Matti has found a producer that could give him enough freedom to do his work, or to bland well with his approach, because ON THE JOB really proves to us that he can work like a genius.
Some people who have described this movie as a return to the classic 80's Pinoy action movies may not have remembered how those old movies were; Most of those old tagalog action movies were too plain, too stereotypical, and too predictable. In contrast; OTJ breaks the norm and defies the stereotype; it is highly unpredictable, uniquely realistic and very unclear who the good guys actually are, which is a good thing actually. We can safely say that ON THE JOB is that great cinematic hope to change the game in Philippine cinema.