...FIGHT!!!
by Reymundo Salao
MAN OF TAI CHI is Keanu Reeves' directorial debut, with Tiger Chen as the lead, and also stars Karen Mok and Hai Yu, who is known for his various Shaolin roles in kung-fu movies from the 80's till the present.
The story centers upon a practitioner of Tai Chi named Tiger, who gets tempted into the world of an underground illegal fight club organized by Donaka Mark. And as he gets to become more of the champion, he also gradually loses his own discipline as a Tai Chi practitioner. MAN OF TAI CHI is simply about one man's seduction to the dark side, and its symbolic evil seducer is played by Keanu Reeves. [continue after the jump]
There is a tone of simplicity in the movie; it does not aspire or have pretensions to achieve anything else except for just being a straight-to-the-point martial arts movie. And it does accomplish its task with flying colors. But despite its simplicity, the evidence of achieving an impressively well-directed movie is clear; the story of its main character is weaved beautifully, following him in his life from being a sort of an underdog in his menial job, from being a simple humble man, and into his journey into darkness, his innocence gradually being corrupted.
What was also interesting is that the film's main protagonist, Tiger Chen, does not look like your typical action hero, he even has little mannerisms that oftentimes make him look awkward and wimpy. But that changes whenever he makes his Tai-Chi stance, as he becomes a force of sheer power. It should also be noted that his acting in this movie was spot-on good.
I loved that Karen Mok was the police protagonist who is investigating the illegal fight club being run by Donaka. It felt like she is portraying the exact same character she played in the 2002 Hong Kong action movie SO CLOSE. Plus, she hasn't looked like she aged a day from that role
As for Keanu Reeves, his acting in this movie is very conservative, in an almost intentionally dry manner that is fit for the kind of villain that he wishes to portray; uncomplicated and plain.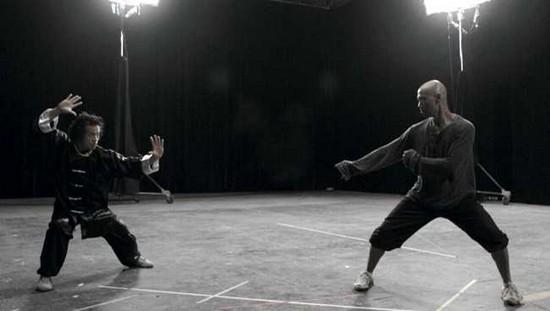 On the other hand, what he may lack in acting, he compensates in how well he has directed this movie. I honestly wonder if he'll consistently establish himself to be the Ben Affleck of action movies.
The Martial Arts is immensely awesome. Reeves is working with the best; Yuen Woo-Ping whose name is almost legendary in the world of Martial Arts movies is the fight choreographer in this movie. The man is a god when it comes to Martial Arts Movies, there's no margin for error with him in your movie.
The movie's only demerit was that the action scene with Iko Uwais (star of The Raid: Redemption) was not as satisfyingly long as expected. But that's a tiny nitpick that does not shake the film's flawlessness.
This film has not yet been released in the US, so its a treat to see this movie already. MAN OF TAI CHI is a delightful treat for those who love seriously good martial arts movies.