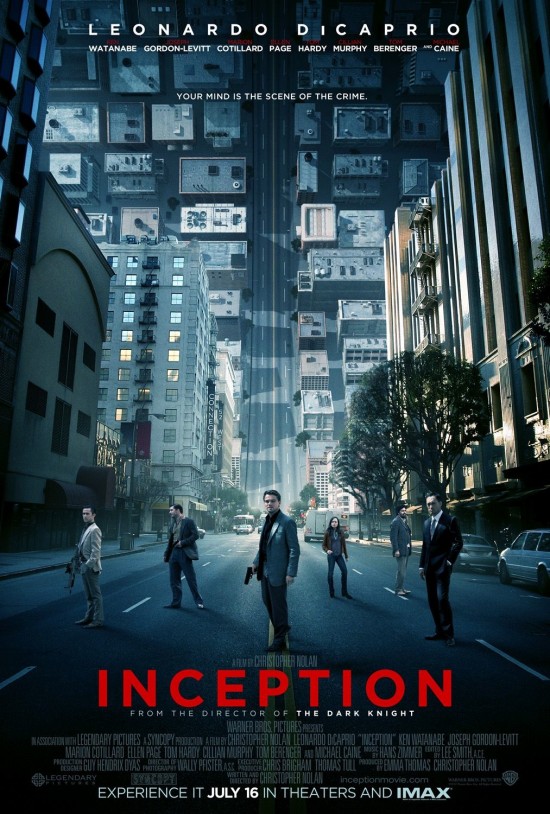 INCEPTION: MIND-BENDINGLY GOOD
by Reymundo Salao
"Was that a dream?" I asked myself after watching Inception. It was quite an action packed and at the same time, mind-boggling movie. I would want to say it's confusing, but the word just sounds too negative for a film that is enjoyable and does challenge you to understand it. But then again, I doubt if after the movie anyone has a full grasp of the storyline. It's a movie that you would either hate because it seems incoherent, or you would forgive because the cerebral pace is just too fast. The others who blindly just worship this movie and claim they fully understood it are either very smart and attentive, or just leveling themselves higher apart from those who did not understand it.
Basically, INCEPTION is about a group of individuals who know how to navigate through dreams, and there, you can do anything you want; you can steal an idea or plant an idea. For Dom Cobb (Leonardo DiCaprio) and his team, they are about to undertake a very difficult and very dangerous assignment. And any mistakes may lead them to a fate worse than death. Are you happy with that synopsis? Well how about this: this movie is directed by Christopher Nolan, who just recently directed the greatest film ever made; The Dark Knight, and has directed several other masterpieces including The Prestige, Memento, and the remake of Insomnia. With a line-up like that, who needs a synopsis?
This is the kind of movie that you will want to have coffee or hangout with your friends after watching it in order just to discuss it further. Nolan's film asks mind-bending questions about dreams and reality, and anything that has some sort of existential depth. At the same time, delivering some hard-ass action.
The action was radically awesome. Joseph Gordon-Levitt looked very agile in that gravity-bending fight scene; he has that swift grace of a fast-moving fighter (makes Batman geeks out there, including me, wonder if he's going to be in Nolan's 3rd Batman movie). The ensemble cast was brilliant as expected. Leonardo DiCaprio, Marion Cotillard, Ken Watanabe, and the rest; all of them are great performers that did deliver as expected. The movie had tremendous-looking visuals. From the exploding reality scene where Cobb discusses to Ariadne (Ellen Page) the concept of dreams, up to the near end part where we see crumbling skyscrapers on the background, the film is a superb kind of fantastic.
The film actually has several flaws, but most of it are questions you do not bother to ask because the film does a great job diverting your attention to how well the movie is executed and how awesome the action gets your cinematic adrenaline going. There is also the issue of clarity as I pointed out earlier as well. The fluidity of the storyline feels that it lacks some fragment scenes because some sequences felt like it needed to slow down for us to understand. Either I'm slow, or the movie is indeed to fast and oftentimes go by with a blur. The movie begs to be watched again, not because of how good it was made, but because you may need to understand it more.
At the end of it all, the flaws do not do much damage on how great the overall movie is. By comparison, I think his previous work The Prestige is way better, but this one is more spectacular and far more visually exciting. Regardless of that little comparison, the film is in its own right, a masterpiece as well. And it really is worth watching in the big screen. Full Price for this mind-bending gem.
SPOILER SECTION
(1) In the scene that we see in the trailer where Eames (Tom Hardy) was saying "You mustn't be afraid to dream a little bigger, darling" and pulls out a grenade launcher, it seems (I think) he was suggesting that they could dream up a bigger weapon. If this is so, then why did they not just dream up an ambulance or a tank when they were in trouble?
(2) While in a second level of dream state (in the snow-filled setting) why did Cobb (Leonardo DiCaprio) say "...when we hit the water" suggesting that he seems to know that they are about to hit water in the first level dream state when he is asleep in that state?
(3) If Saito suffered in Limbo for years and that's the reason he's very old in that Limbo, why has Cobb not aged as well?