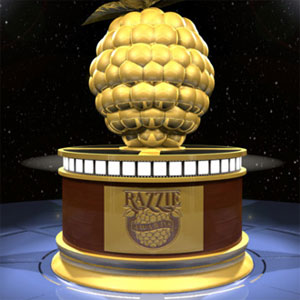 Razzies Nominations for this year
If the Oscar Awards honors the best in film arts, the Razzies, on the other hand, honors the worst.
"Transformers: Revenge of the Fallen" and "Land of the Lost" are tied for the most Razzie Award nominations, scoring seven chances each to take gold paint-sprayed statuettes hailing the worst films of 2009.
Also noteworthy: two of this year's Oscar players could also end up as Razzie stars when trophies are doled out one night before the Academy Awards gala. Oscar ceremony co-host Steve Martin is nominated for worst actor in "Pink Panther 2." No other actor has ever been up for a Razzie the same year he or she emceed the Academy Awards, although Martin's co-host on March 7, Alec Baldwin, was nominated for a Razzie in 2003 (worst supporting actor, "Cat in the Hat").
Sandra Bullock is considered an Oscar best actress front-runner for "The Blind Side," but she's also nominated for 2009's worst actress for "All About Steve." If Bullock claims both trophies, she'll be the first star ever to pull off the dual win in the same year. Others have done so in nonacting categories. In 1992, Alan Menken won two Oscars for composing the music in "Aladdin" and a Razzie for a tune in "Newsies." In 1997, Brian Helgeland reaped an Oscar for writing "L.A. Confidential" screenplay and a Razzie for penning "The Postman."
Two stars have been nominated for an Oscar and a Razzie in the same year for the same role, but they lost: James Coco ("Only When I Laugh") and Amy Irving ("Yentl"). Halle Berry famously bagged a Razzie soon after her Oscar, but three years separated her wins for "Catwoman" (2004) and "Monster's Ball" (2001).
John Wilson, Razzie president and founder, tells Gold Derby that "Transformers 2" creator Michael Bay is overdue for Razzie glory after a past worst-picture loss for "Armageddon" (1998) and two defeats for worst director: "Armageddon" and "Pearl Harbor" (2001). "Bay is totally talent-free and untouched by the muse," Wilson says with a sigh.
Wilson says that 2009 was such a banner year for bad movies that the Razzies considered expanding their worst-picture list to 10 nominees like the Oscars' best-picture list, "but then I realized that our membership is only one-tenth of the academy, and it would have no meaning. It would be just like the Golden Globes where a movie can win with only 17 votes."
If the Razzies had expanded its top category, "Twilight: New Moon" would've been nominated for worst picture since it came in sixth place in the voting, so alas, it got snubbed.
" 'Twilight: New Moon' just wasn't bad enough," Wilson adds, noting that its star Taylor Lautner also barely missed out receiving a nomination for worst supporting actor. Nonetheless, he was cited along with "Twilight" costars in the category for worst screen couple as "Kristin Stewart and either Robert Pattinson or Taylor Whatz-His-Fang." Pattinson is nominated for worst supporting actor, and "New Moon" is listed in the race for worst screenplay.
Wilson is surprised at a few omissions from the performance lists. "Gerard Butler had a banner bad year with 'Gamer,' 'The Ugly Truth' and 'Law Abiding Citizen,' and Nicolas Cage was terrible in 'Knowing,'" he says. "In any other year they would've been nominated."
It's the Razzies' 30th anniversary year, so it's time to bestow prizes for worst filmmaking of the decade. They'll be doled out with 2009's trophies at Hollywood's Barnsdall Gallery Theatre at 7:30 p.m. March 6.
source:
Gold Derby