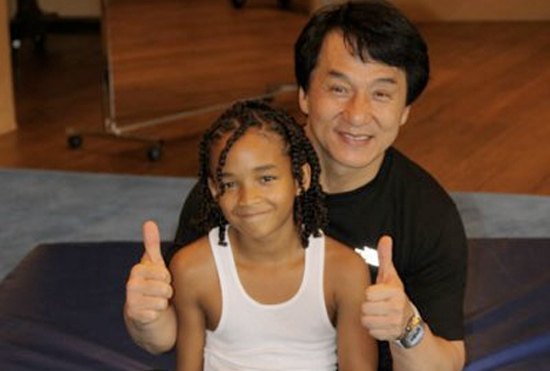 To all you Karate Kid fans out there may have already heard that there is going to be a remake of the said film, I know many of you are awaiting what this remake is going to look like.
Well here is what we know so far: The Master is going to be played by Jackie Chan, and the kid is going to be played by Jaden Smith (the son of Will Smith & Jada Pinkett-Smith) and the "master" be played by Martial Arts legend Jackie Chan. Directed by Harald Zwart (The Pink Panther 2) and written by Chris Murphy and Steven Conrad (The Pursuit of Happyness). And this Karate Kid remake has been appropriately retitled as KUNG-FU KID. And filming has now begun.
Its synopsis: Jaden Smith plays Dre, a skateboarding video game buff who is forced to move to China after his single mother (Taraji P. Henson) is forced to transfer to the China for work. Of course, unable to speak Chinese, Dre finds it hard to settle in, and gets beat up by the local bully. Jackie Chan plays Mr. Han, a maintenance man who spots Dre's black-eye and offers to teach him both martial arts and Chinese, so he can defend against the students of Li Quan Ha's Fighting dragon school of Kung-Fu.
I'm not really having much hopes or even interest for this movie. This looks more like a Disney movie than a Karate Kid remake. wehn the Karate Kid movie hit it big back in the 80's, it was actually more of a teen movie. The part II even had this very cheesy ballad themesong by Peter Cetera that emphasizes the movie's more love story aspect. As much as I hate Twilight, but if this movie wants it to be successful, in my opinion, they should have gotten people from Twilight for this movie. I'm still not gonna be interested in it, but at least it would reflect the charm of the original. But I may be wrong, you know. Teens these days are not as interested in Martial Arts anymore as in the 80's. Re-focusing on the "family entertainment" crowd may also be a wise position, especially with the success of Forbidden Kingdom and Kung-fu Panda still warm on the table.