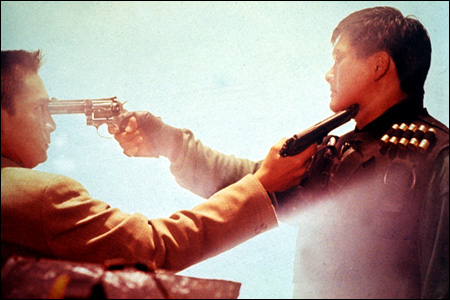 a scene from HARDBOILED
HARDBOILED (1992 Hongkong movie) was one of the movies that made director John Woo the master of ballistic action, and it was also one of the films which sealed Chow Yun Fat as one of Asia's greatest action superstars. It also was one of the films which made Hongkong cinema one of the best sources for noir action movies.
STRANGLEHOLD is the 2006 videogame sequel of the legendary action movie HARDBOILED. In an interview, John Woo states "we developed a video game STRANGLEHOLD featuring the character Inspector Tequila in Chow Yun-fat's likeness and with his voice.
We spent four years making the game, which was released in 2006 by Midway. It became a moderate hit.
We are now developing a movie of STRANGLEHOLD, and just signed the writers Fabrizio & Passmore. It will be a hardcore action film set in both Hong Kong and Chicago. We will keep some of the action set pieces of the game, but the story is different. It is a total reinvention, with a much younger Tequila. In other words, it is not a sequel to HARD-BOILED."
See the full article at
Twitchfilm.com