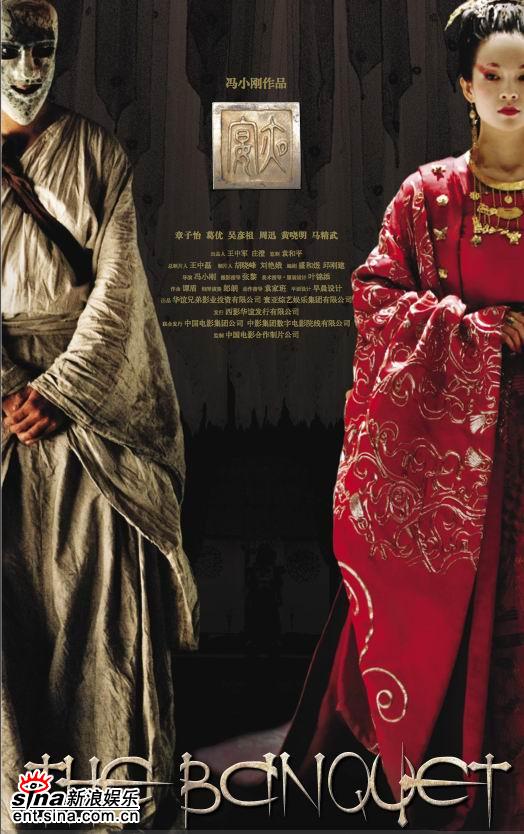 THE BANQUET: More than just a Hamlet Adaptation
By Reymundo Salao
Set in China in the 900s AD, this loose adaptation of Shakespeare's "Hamlet" is about a prince's return to an empire now ruled by his uncle when his father died. His return from an assassination attempt stirs the kingdom, but he has no wishes to rule as Emperor. The Empress, his former love married by his own father and now is Empress to his uncle the new Emperor, wishes of him to replace as Emperor. But time will only tell if the fates will change, and perhaps, all their plans may be set in motion during the Imperial Banquet.
The combination of Shakespearean stories and an Ancient Asian setting makes for great chemistry as may be proved by Akira Kurosawa's RAN, which adapted William Shakespeare's "King Lear". "The Banquet" (originally entitled "Ye Yan") is a loose adaptation of Shakespeare's "Hamlet" which, I believe, is Shakespeare's most powerful literary creation, and one which has been adapted (as I count) 5 times in the silver screen (my personal fave is the version with Mel Gibson; I have yet to watch the one with Ethan Hawke). This adaptation is so loose that oftentimes it feels like it has its own originality and only drew inspiration from "Hamlet".
One of the original aspects of the film is that of the character played by Ziyi Zhang, which is a product of a revision of the original script. A revision which added quite a depth to the storyline. Gong Li (Memoirs of a Geisha, Miami Vice, Farewell My Concubine) was originally supposed to play Zhang Ziyi's part. Maggie Cheung (2046, Hero) was also considered for the role. Due to scheduling conflicts. When Ziyi Zhang took over the part, the script was rewritten to make the character younger. Her character is a former love interest of the Prince Wu Luan (the main character) but was later wed to the Prince's own father and eventually, to become the Empress to his uncle. Such a character has given a large amount of dramatic tension to the storyline and further complicates it, making the story more unpredictable even though it is an adaptation.
It is such a wicked delight to see Ziyi Zhang play such a dark snake of a character in this movie, a character who claims a love which is actually of self rather than something pure. Since her breakthrough in "Crouching Tiger..." she has proven time and again that the potency of her talent doesnt easily wither, and in her youth she has already made great performances, more than enough to satisfy a cinema-acting retiree. Likewise, impressive performances from Daniel Wu as the Prince Wu Luan, (the alluring & yummy) Xun Zhou as the Opheliac Qing Nu, Jingwu Ma as the wise Minister, and You Ge who also deserves much praise for playing the Emperor Li, a character who defies being generalized as black & white; a character which is richly layered with many levels.
THE BANQUET is mainly drama, You do not watch this film for the Martial Arts, even though Yuen Woo Ping has a hand in the making of this film as both producer and action choreographer (I would consider Yuen Woo Ping as the living god of Martial Arts movies, having directed timeless classics like "Snake in the Eagle's Shadow" & "Drunken Master" until now, & was given international spotlight when he worked as Fight choreographer of "The Matrix" movies), but you watch this movie for its beautiful storyline. Although there are moments that induce awe in some of the fight sequences, these are expected to be minimal compared to the dialogue-driving motion of the film. It may even be observed that the martial arts here is a mere icing on the cake.
Along with that icing is the amazing visuals that it presents. From flying stunts, to set designs to costumes. You can feast your eyes upon the visuals, which wakes up viewers from a possible boredom. It employs a semi-surreal style of setting.
It seems that ever since it broke into worldwide popularity, "Crouching Tiger, Hidden Dragon" has opened the floodgates for Chinese dramatic epics which are done in "closed form" of movies, movies which such a forced unnatural ambiance that generally use wireworks to do fantastic martial arts feats and exaggerated vibrancy and style on sets which depict surreal environments (although this style was long used in Hong Kong, but mostly only for action epics). But this type of fantasy-like genre was getting old and it needed to be complemented with really good storylines. Such was achieved by Yimou Zhang's "Hero" (which starred Jet Li & Donnie Yen). This same surreal "closed form" style is employed by THE BANQUET.
I am glad that this film is on extended run, which gives a chance for those who missed it last week to watch it. THE BANQUET is powerful, dramatically rich, and such a masterpiece of a work, as dark and beautiful as the Shakespearean tragedy from which it is based on.